Due to PVDF's high mechanical strength, stiffness, high abrasion resistance and low coefficient of friction, it is highly suitable for the manufacture of machine parts.
PVDF falls into fire class B1 (according to DIN 4102), which means the material is flame-resistant and self-extinguishing. In addition, PVDF is fully approved and certified for food contact according to the European 10/2011 Food Grade legislation. This is essential in the canning and food industry, meat and fish processing companies and other applications where non-toxic behaviour, the environment and hygiene are important. Amari Plastics also has certification for the benefit of the Federal Health Office and the Food and Drugs Administration.
Unique features
High compressive strength

Low creep symptoms

Suitable for food contact

Good weldability

Good chemical resistance
Applications
Chemical Engineering And Tank Building
Clean Room And Semi-Conductor Industry
Electrical Industry
Food Processing Industry
Machining options
Welding
Water jet cutting
Laser cutting
Gluing
Warm bending
Cold bending
Thermoforming
Yes
Not in all cases
No
How to identify PVDF
Colour is not always an indicator, but PVDF can often be identified by its opal, milky colour. As you can see PVDF is not easily flammable.
The specific gravity is higher than 1, which means that PVDF does not float.
Info per segment
PVDF Engineering Plastics
This industry-wide, high-performance plastic is highly-used to withstand heavy loads, used under tension and for bending and compression. It also has a very high resistance to chemicals, is UV resistant and flame retardant.
PVDF is suitable for direct contact with food due to its inherent material purity.
Applications
Scrapers

Insulating bushes

Machine parts

Parts for piping systems

Storage tanks
Example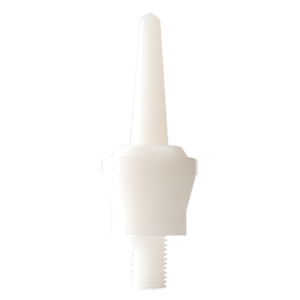 What are the main technical properties of PVDF?
PVDF is a fluoroplastic and, due to its composition, has a good resistance to very pure chemicals. The high purity of the material also makes PVDF suitable for contact with ultrapure water. PVDF is suitable for infrared welding. As a result, the groove in the tube is many times smaller compared to other welding methods.
Technical information
General

| | | | |
| --- | --- | --- | --- |
| Definition | Norm | Unit | Value |
| Density | ISO 1183 | g/cm³ | 1.78 |
| Moisture absorption in normal climate | † | † | 0.02 |
| Fire rating | DIN 4102 | † | B 1 |
| Specific heat capacity | † | kj/Kg°C | 0.96 |

Mechanical

| | | | |
| --- | --- | --- | --- |
| Definition | Norm | Unit | Value |
| Tensile strength | DIN 53455 | N/mm | 56 |
| Elongation to break | DIN 53455 | † | 22 |
| E-Module | DIN 53457 (23°C) | N/mm² | 1950 |
| Bending strength | DIN 53452 | N/mm² | 75 |
| Impact strength | DIN 53453 (23°C) | Charpy | 12 |
| Shore or ball pressure hardness | † | Shore °D | 78 |
| Coefficient of friction | † | † | 0.34 |

Electrical

| | | | |
| --- | --- | --- | --- |
| Definition | Norm | Unit | Value |
| Relative electrical constant | DIN 53485 (100Hz) | 100 Hz | 6.8 |
| Dielectric Loss Factor | DIN 53483 (100Hz) | tan (..x10-³ | 0.017 |
| Specific resistance | DIN 53482 | 16 cm | >10 |
| Surface resistance | DIN 53482 | 13 | >10 |
| Creep current resistance | DIN 53480 | KC | 125 |
| Breakdown voltage | DIN 53481 | kV/mm | 25 |

Thermal

| | | | |
| --- | --- | --- | --- |
| Definition | Norm | Unit | Value |
| Crystalline melting point | † | °C | 170-180 |
| Heat conductivity | DIN 52162 | W/m°K | 0.13 |
| Linear coefficient of expansion | DIN 53762 | mm/m°C | 0.14 |
| Long-term no-load operating temperature | † | °C | -40 / 140 |
| Maximum short-term operating temperature | † | °C | 150 |
| Heat deformation | DIN 53461 | °C | 140 |

Temperature range

| | |
| --- | --- |
| Minimum temperature | Maximum temperature |
| -40°C | +140°C |
Machining data
Circular sawing

| | |
| --- | --- |
| Clearance angle (α) | 10 - 15 [o] |
| Rake angle (λ) | 5 - 15 [o] |
| Cutting speed | 2000-4000 [m/min] |
| Tooth pitch | 2-8 [mm] |

Band sawing

| | |
| --- | --- |
| Clearance angle (α) | 30-40 [o] |
| Rake angle (λ) | 0 - 10 [o] |
| Cutting speed | 500-1500 [m/min] |
| Tooth pitch | 2-8 [mm] |

Drilling

| | |
| --- | --- |
| Clearance angle (α) | 10 - 15 [o] |
| Rake angle (λ) | 0 [o] |
| Top angle (φ) | 80 - 110 [o] |
| Cutting speed | 50 - 100 [m/min] |
| Start | 0.2 - 0.7 [mm/rev] |

Turning

| | |
| --- | --- |
| Clearance angle (α) | 5 - 15 [o] |
| Rake angle (λ) | 0 - 15 [o] |
| Setting angle (χ) | 45 - 60 [o] |
| Cutting speed | 200 - 500 [m/min] |
| Start | 0.1 - 0.5 [mm] |

Milling

| | |
| --- | --- |
| Clearance angle (α) | 5 - 15 [o] |
| Rake angle (λ) | <10 [o] |
| Cutting speed | <1000 [m/min] |
| Start | 0.1 - 0.5 [mm/rev] |
Buy PVDF from our webshop